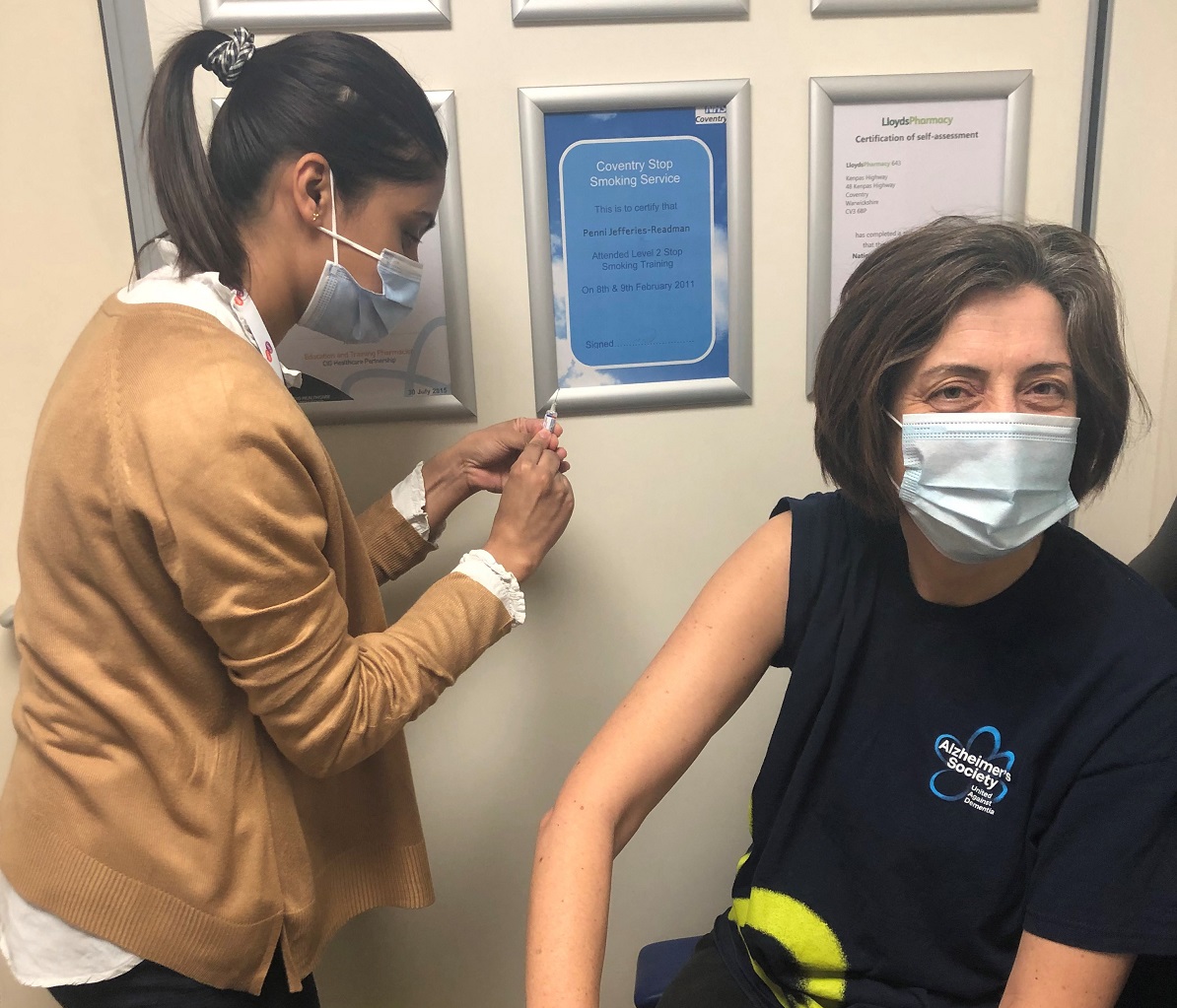 ​
Appointments and vaccines have been made available to book online, for the charity's frontline Dementia Advisers and Dementia Support Workers between 25 November and 2 December.
By supporting frontline staff with flu jabs, Alzheimer's Society can ensure they can continue to be there for people affected by dementia. This will be a critical winter period and by continuing to deliver online group services and maintaining welfare calls and the charity's Dementia Connect Support Line, Alzheimer's Society can ensure that people affected by dementia still have access to vital information, advice and support.
People living with dementia have been some of the worst hit by coronavirus – accounting for a quarter of deaths so far, and tragically there's been an additional huge unexplained rise in dementia deaths beyond those who've died from the virus. Thousands of people living with the condition have also seen their symptoms increase and mental health deteriorate due to a lack of social contact and interruptions to essential care and support.
Helen Foster, Director of Operations at Alzheimer's Society said:
'We are incredibly grateful for the ongoing support from our corporate partner, McKesson UK. The flu vaccines made available to us will help us face a challenging winter period with protection for those staff on the frontline so we can keep our phone lines and online services running for those who desperately need our help.'
Toby Anderson, McKesson UK CEO said:
'With so many services already paused because of COVID-19 we're delighted to be able to help keep our charity partner's operational colleagues safe and well so they can continue providing essential services to people living with dementia this winter.
'Every day, our pharmacy teams, nurses and drivers interact with thousands of people who are living with dementia, have a relative with the condition or are caring for someone with it.
'Because of the pandemic a lot of our traditional fundraising activities have been impacted, but we're pleased we can also help support Alzheimer's Society in other ways, such as this.'
After partnering with Alzheimer's Society in 2015 to make better health possible for people living with dementia, more than 28,000 McKesson UK colleagues have become Dementia Friends, a Memory Tree has been installed in the company's Head Office in Coventry and teams have raised over £680,000 by taking part in national Alzheimer's Society fundraising events such as Elf Day and Dementia Action Week.
McKesson UK has also been able to fund vital research projects in collaboration with Alzheimer's Society, including a study looking at how early signs of dementia can be detected in speech patterns and a project investigating how to help people with dementia better manage diabetes.
Visit www.alzheimers.org.uk for more information.