Hundreds of protesters have been detained after heated demonstrations swept across Indonesia in response to a law that weakens environmental protections and workers' rights.
Labour unions have vowed to continue their protests until the government cancels the law, despite police warning that the demonstrations violate measures to prevent the spread of Covid-19.
Clashes between police and protesters began on Tuesday night and continued throughout Wednesday, with teargas and water cannon used to break up demonstrations. Six protesters were reportedly in a critical condition in hospital.
One legal aid group said nine detained protesters including a 16-year-old were beaten by police and told to drink from the same water bottle, despite the risk of Covid transmission. Police did not respond to a request for comment.
In the Javanese city of Semarang, protesters tore down the fence of the local parliament complex. In Bandung, groups set fire to tyres and threw rocks and petrol bombs at police. Thousands attempted to reach the Bandung parliament building but roads had been blocked.
The law passed on Monday makes sweeping changes to workers' entitlements and environmental regulation. The government says it will make Indonesia more attractive to investors. However, a draft version of the bill removed key protections such as mandatory paid leave for childbirth, increased limits on work overtime and cut severance pay. It also relaxed hurdles that were designed to protect the environment.
A spokesperson for the National Union Confederation (KSN) said: "We are going to die because of the coronavirus or die because of the system. We don't know how we will die. But we still can change the system. So we are going to march until we win."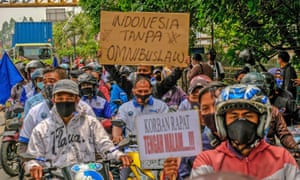 Unions said at least 2 million workers had turned out for the protests, while Reuters and Associated Press reported that thousands attended. Students unions said they would join on Thursday.
Demonstrations took place in at least 12 places on Wednesday, according to Reuters, with police detaining 183 people in South Sumatra and holding more than 200 protesters in the capital, Jakarta.
Indonesia Legal Aid (LBH) said police arrested nine protesters in Bandung, including a 16-year-old. "They were beaten, half stripped naked and forced to drink from one bottle. Some injured," said Lasma Natalia, the chair of LBH Bandung, in West Java province. The LBH's lawyer team was lobbying the police to release the protesters.
A group of religious leaders have set up an online petition to reject the law, which has gained 1.3 million signatures. Roy Murtadho, who began the petition, said community groups had signed in support because they feared the impact of the law on the environment.
"A group of women who are defending a small island in Sulawesi from the government sand mining project said to me that they are passionate to sign the law. They feel related to the issue and thinking that the situation is going to get worse if the Omnibus Law is applied," he said.
Zainal Arifin, a law expert and lecturer in the University of Gadjah Mada, called on civil society to contest the law through legal channels. "Social disobedience and filing the judicial review in constitutional court – both have to be done together, not separate," he said.
The national police did not respond to a request for comment.