Pro bono work for a lawyer isn't a California state bar requirement, but one firm has made it part of its mission to encourage its attorneys to take on some domestic violence cases without charge.
Farzad & Ochoa Family Law Attorneys, a firm with Santa Ana and Mission Viejo locations, began practicing family law exclusively about a decade ago. Most of its clients seek out the firm for complex divorces and custody work. But like local domestic violence resource centers, the firm has experienced an uptick in calls from victims of domestic violence — one to two calls per week has risen to about four to six — during the coronavirus pandemic.
Robert Farzad, the firm's managing partner, said there are three common cases: ongoing victims whose abusers have escalated violence, victims with no history of domestic violence experiencing it for the first time during the pandemic, and spouses or parents who live together but have gotten so sick of each other they ask the firm what may qualify as domestic violence in order to initiate a separation.
The first two types of cases hit home for the 50-year-old attorney. He witnessed domestic violence in his household while growing up in Iran.
Farzad said it impacted his adulthood and eventually influenced his career.
"I saw an opportunity to help abuse victims become survivors and to also protect children from the abuser," Farzad said. "As the firm grew and we developed the resources to increase our pro bono work, helping those victims of domestic violence became nearly the exclusive focus of the firm's pro bono department."
The firm works with Human Options' clients once a week at their emergency shelter to deal with restraining orders, custody, divorce and police reports.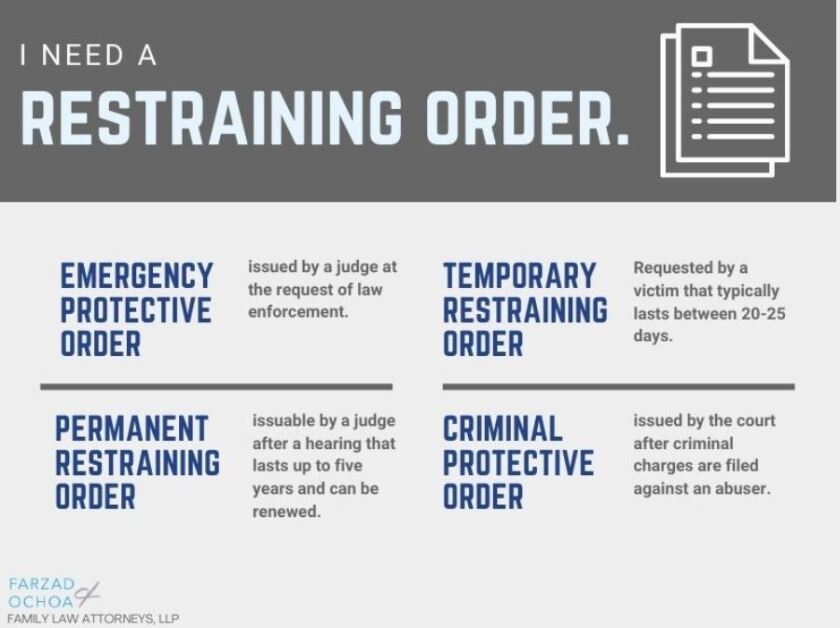 Human Options, one of Orange County's domestic violence resource centers, has offered legal advocacy services for victims and survivors for more than 20 years. Legal advocates are stationed at emergency shelters and pro bono clinics (or free consultations with lawyers) held once a week to navigate complex legal problems.
Maricela Rios-Faust, CEO of Human Options, said the main obstacles in seeking legal services are cost and understanding the process.
Farzad estimates that a straightforward restraining order that can be wrapped up in one hearing can cost from $5,000 to $10,000, depending on the attorney's hourly rate. A highly contested case can cost $10,000 or more.
"Without the access to the administration of justice, there really is no justice," Farzad said. "Many victims of domestic violence have minimal access to financial resources to pay normal attorney fees. If law firms don't step up and provide the pro bono work on a consistent basis, who's going to do it? We are the most qualified to do the work."
Before the pandemic, lawyers would go to a confidential location and meet with people who signed up for the pro bono clinic. They would flesh out the facts of their client's case, explain their options, prepare documents to submit to a court and offer information about what to expect as they continue the legal process on their own.
Human Options' clinics have been held over the phone or online since the pandemic — much like O.C. courts, which are largely continuing to run remotely.
In some situations, lawyers take on cases and represent clients for free. They serve the paperwork, go to court to handle hearings, interview witnesses and put together exhibits.
"It's hard sometimes to say no to people, but what we want to do is help the ones that are truly victims of domestic violence and do not have the financial means to do that, especially when children are involved," the firm's partner, Yvette Ochoa, said about choosing pro bono clients.
Rios-Faust notes that for some abuse victims, a legal response or a figure in the court system who can validate their experiences becomes critical.
"It's interesting to watch victims who may not have the support to get the legal finding or the legal action that they need. Unfortunately, what they hear is that it must not have been bad enough or it must not have been really happening," Rios-Faust said. "It becomes really important to find the support that will help them get the justice and or the changes that they need to help them move forward."
One of the challenges Farzad has come across during initial meetings is people who dismiss or understate domestic violence in households because of cultural norms or who don't categorize non-physical abuse as domestic violence.
"Domestic violence also includes financial, emotional, mental abuse. Someone who has to control everything and doesn't let a person leave their home, continually berates them and puts them down," Ochoa said. "It doesn't have to be where you are being physically touched or sexually abused to be considered domestic violence."
Although Farzad saw a lot of public information about domestic violence, it was spread out through multiple locations. He wanted to create an accessible guide capturing legal and emotional components.
The free guide, about 11,000 words long, includes definitions, statistics, laws and resources related to domestic violence. It's available online through the firm's website in English. A Spanish version will be published online soon.
Farzad and Ochoa, who have also established pro bono work in the Los Angeles branch of the firm, plan to expand it in the firm's San Diego office as well.
"The frustrating thing is that there aren't enough lawyers doing pro bono work. I'm hoping my colleagues will read this and get serious about paying it forward," Farzah said.
Support our coverage by becoming a digital subscriber.
window.fbAsyncInit = function() { FB.init({
appId : '119932621434123',
xfbml : true, version : 'v2.9' }); };
(function(d, s, id){ var js, fjs = d.getElementsByTagName(s)[0]; if (d.getElementById(id)) {return;} js = d.createElement(s); js.id = id; js.src = "https://connect.facebook.net/en_US/sdk.js"; fjs.parentNode.insertBefore(js, fjs); }(document, 'script', 'facebook-jssdk'));